Google has many, many uses. It can tell you how Jamie Oliver boils an egg, it can find you the latest starlet's "accidently leaked" rudey nudey home videos. My third favourite thing about google is the autofill. Type in "scar" for example, and google suggests that you could be looking for "Scary maze game" "scarlett Johansson" or perhaps "scarborough". It's brilliantly diverse, I should think it is based on most popular searches or some-such widget. Quite what Scary maze game is, and how it's been looked for than the wonderfully sculpted Scarlett, is beyond me. If you ignore the autofill suggestions, you put the blinkers on the internet, and you ignore the searching questions posed by your fellow man. Shame on you.
When "Graeme Souness is typed in, the first suggested searches are for "flag" and "tackle" (Apologies to anyone over the age of thirty or a student of football history and folklore). What's that all about? How can such a famous player, manager and pundit be more famous for a flag and a tackle than any of his many achievements in the game? Has he not got eight League Championship medals? Did he not win three European Cups? Even the bad things in his career – dismantling a Liverpool legacy in a disastrous 3 year managerial career there, signing Corradi for Blackburn – take a back seat to: Flag, and tackle.
Souness is one of Liverpool FC's Hall of Fame alumni, yet according to the internet's most widely used search engine, people are more interested in these two things. A flag, and a tackle. Google here provides a wonderful insight through simple statistical formulae into what we think about Graeme Souness.
For some reason he seems to hate Romanians. Against Dinamo Bucharest as a Liverpool player he broke a player's jaw, and (This is the google autofill one) as Glasgow Rangers player manager, he all but kicked an opponent's leg in half against Steua Bucharest – a modern equivalently violent and nasty challenge would be Roy Keane ending Alf-Inge Haaland. There was a steel to his game, but Souness sets himself apart from the other occupants of the Empty Room series, because he was a truly world class player. A whole generation of Liverpudlians idolised him and his team mates, he played at the heart of Liverpool's greatest ever team.
The flag then… Whilst manager of Galatasaray he almost caused a riot by placing a huge Galatasaray flag in the centre circle of bitter rivals Fenerbahce's pitch. His team had just beaten Fenerbahce in the Turkish Cup Final, what more appropriate way to celebrate than claiming their land? Utterly hilarious when viewed form a safe distance 15 years later, but at the time it was truly inflammatory. Turkish football fans aren't the best group of people to provoke. Souness didn't give shit.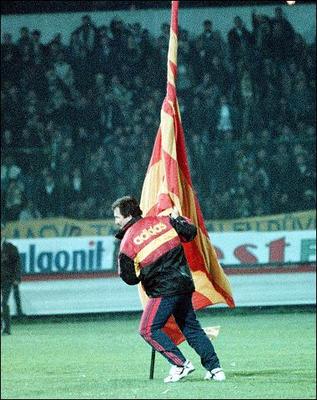 Souness didn't give a shit about hurting a few people on the pitch either. With better aim and more ferocity than displayed with his flag raising efforts, he was more than happy to go to war for the sake of his team.
His managerial career is often dismissed as poor, but whilst he never reached such heights as he did as a player, he did achieve a lot more than his detractors would have you think. He's blamed for the fall from prominence of Liverpool, but in truth he inherited an aging squad from Kenny Dalglish, and just wasn't able to manage the transition period when youngsters such as Robbie Fowler and Steve McManaman came through.

The vast majority of his problems with the other clubs he managed seems to have been fall-outs with players. Perhaps his own high standards couldn't be reached by his players, perhaps he was just a massive cunt.
Never one to let a small thing like hypocrisy get in the way of a good rant – he reportedly flew into a foul-mouthed angry tirade at the manager of an under 10s team who had upset him. Apparently this manager had not taken a player off after he committed a bad foul, so Souness upped the ante and went ballistic at him, pausing to apologise to the women present for the blue language. What a gent.
As for his nickname "Champagne Charlie"? Well... as a young Scot on Merseyside in the 80s, he didn't mind a bit of a party...